Updated information regarding Covid-19 precautions at TMEMS
16 Aug, 2021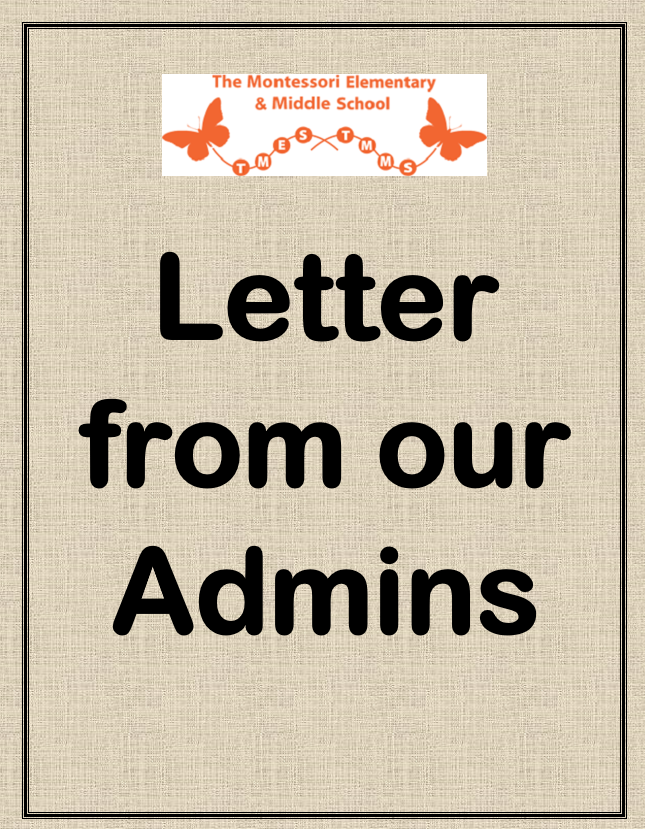 FAQ's regarding Covid-19 procedures at TMEMS
Dear TMEMS families,
First, we want to thank you for your kind words and continued support as we begin this school year! We really believe we have the BEST school community around. We truly appreciate how our families come together for the betterment of the community.
As we mentioned in our email last week, our primary goal is keeping our students and staff healthy, happy and in-school, on-campus. Due to this focus, and the increase in Covid-19 cases in our state, we are proactively making some changes/updates to do our best in achieving that goal. These measures may not currently be mandated, however, we feel the extra precautions are worth it to keep our students on campus. Here are some of the preemptive measures we are taking to combat the spread of Covid-19 on our campuses:
• *Effective today*, our students are forming cohorts with their grade or by teacher, in order to help minimize any disruptions to on-campus learning. If we do have a confirmed Covid-19 case at our school, cohorts can lessen the amount of students who will have to self-quarantine and can help lessen the possible exposure and spread. We will keep students in their cohorts for classroom learning time, lunch and snack times, on the playground and as much as possible throughout the school day.
• *Effective today*, we ask that anyone outside of their vehicle on our campuses, wear a mask. This includes any time you come to our front door, any time you are outside or in our buildings and during Elementary Pick-up every day. Again, we are doing our best to keep students and staff on campus so we thank you in advance for cooperating by wearing a mask every time, correctly (covering your nose and mouth).
• We changed the Drop-off schedule to include not only double the amount of time for families to drop-off in order to help facilitate social distancing, but also to help with the flow of traffic. (Reminder- if you would like to park your car for any reason during Drop-off, we ask that you please do so in the southern-most parking lot, near the buses, in order to keep the main parking lot safer and flowing freely with Quick Drop-off.) More details about Drop-off and Pick-up can be found on our website at: https://tmesnm.com/school-life/new-pick-up-procedure
• Our cleaning procedures and filtration are in line with CDC recommendations. More details are included in the FAQs document attached to this email.
• If families call their student in sick, Ms. Brenda is completing a symptom checklist with them to try to help advise parents in the appropriate steps to take in regards to Covid testing. The Decision Tree can also be found on the last page of the attached FAQs document.
• Each of our classrooms are using a program called "Choose Love" to help students with their Social-Emotional health. We are putting a large focus on Social-Emotional Learning (SEL) this school year. You can see more details of this program at: https://chooselovemovement.org/ . There is even a home component you can use with your own family!
In order for us to be successful in keeping our students and staff healthy, happy and on-campus, we need YOUR help! Here are some ways to support your student, and our community, be successful:
1. If your child is not feeling well or showing any signs or symptoms of illness, please keep them home and contact Ms. Brenda at 796-0149 or bjohnson@tmesnm.com . If your child has been exposed to Covid, it is especially important that you keep them home and contact Ms. Brenda so we can help you with the next steps in how to keep the community healthy.
2. Get your child to school on time, every day! When they are late, it not only interrupts their learning process, but also their classmates too. Please try to schedule any appointments, etc outside of school hours so your child does not have to miss any classroom time.
3. Send a full water bottle and a large, healthy lunch with your child every day. It is better to have too much food than too little!
4. Make sure your child has a clean mask to wear every day. We also suggest placing an extra mask in their bag in case they need a new one during the school day. It is important that the mask fits their face correctly and meets the mask requirements stated in the attached FAQs document.
5. Read ALL the school emails! It is very important that you check your email inbox every day as that is our main source of communicating pertinent information to families. Please keep us updated on any changes to your email address and make sure both parent's email addresses (if possible) are listed in Tyler SIS Parent Portal.
6. Communicate any issues/changes with your child's physical and/or mental health, family life, etc to their teacher so we can support them in the best ways possible.
Again, we have decided to make these proactive updates and changes in order to meet our goal of avoiding having the students return to the distance learning structure as we believe students do best when they are in-person, on campus. We truly appreciate your support and cooperation in these precautions and will continue to keep you updated as to any changes that are made!
In solidarity,
Mary Jane Besante and Stan Albrycht
TMEMS Administration