Montano Campus Winter Concerts & Self Portrait Showcase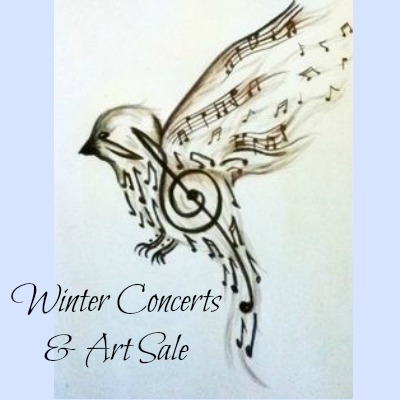 Location: TMES Montano Campus
Event Cost: FREE! (Self-portraits sold on a donation basis)
TMES Winter Concerts & Art Sale
Thursday, December 12, 2019 @ the Montano Campus
(Carmel Campus families- your child's event is scheduled for Wednesday, December 11th @ 9:00am at the Carmel Campus!)
Montano Campus families- Event details:
We hope you will join us for our 4th annual TMES Winter Concerts & Art Sale! This is sure to be a beautiful morning of music and art with our 4-6 level students, 6-9 level students and 9-11 level students at our Montano Campus.
Our 4-6 level and 1st year students will have an Art Show of self-portraits and a General Music concert for parents to enjoy.
Our 2nd – 5th grade students will be performing what they have learned so far this year in their Strings class and General Music. They will also have self-portraits displayed in the Art Show.
Everyone will have a chance to purchase their child's self-portrait to benefit our EA Fund. The self-portraits will be offered on a donation-basis (meaning you are welcome to donate whatever amount you would like to pay for the art. Suggested donation is $20 each self-portrait.)
The schedule for the event is below. Please remember that we do our best to stay on schedule and appreciate your understanding if there are any delays!
Click here for a map of the event. (Please note that we cannot have anyone standing/waiting in the hallway during the event. Thank you!)
Click here for a pre-order form for your child's self-portrait! (Pre-order form is due no later than December 5th)
Click here for a printable schedule for the event. Don't forget to check both schedules (General Music and Strings) if you have a 2nd, 3rd, 4th or 5th grade student!
Art Sale for everyone! The Art Sale/Show will be located in the middle school classrooms. All students have created a self-portrait that will be offered on a donation basis so you can pay whatever you like for the item! All proceeds from the Art Sale will benefit our EA Fund and will directly benefit our students and staff this school year. Please shop our Art Sale and give generously!
Winter Concerts & Art Sale Schedule
Thursday, December 12th, 2019
4 year old, Kindergarten & 1st grade parents: You will need to look at the General Music schedule
2nd grade, 3rd grade, 4th grade and 5th grade parents: Look at both the Strings and General Music schedules. Don't forget to check BOTH schedules
Suzuki Strings Program: (violin, cello & viola/Orchestra)
8:30-9:30 am: all Strings students to go to Ms. Megan's room for tuning
All 6-9 classes: 20 minute performance and 10 minute passing period
9:35 am: Ms. Sonia & Ms. Claire (2nd grade, 3rd grade)
10:05 am: Ms. Kira & Ms. Lilli (2nd grade, 3rd grade)
10:35 am: Ms. Jen & Ms. Trish (2nd grade, 3rd grade)
11:05 – 11:25 am: Lunch
Advanced Violin and Cello: 20 minute performance and 10 minute passing period
11:30 am: Advanced Violin & Cello
All 9-11 classes: 15 minute performance and 10 minute passing period
12:00 pm: Ms. Emily (4th and 5th grades)
12:25 pm: Ms. Sherry (4th and 5th grades)
12:55 pm: Ms. Molly (4th and 5th grades)
General Music:
All 6-9 classes: 20 minute performance and 10 minute passing period
9:05 am: Ms. Sonia & Ms. Claire (1st grade, 2nd grade, 3rd grade)
9:35 am: Ms. Kira & Ms. Lilli (1st grade, 2nd grade and 3rd grade)
10:05 am: Ms. Jen & Ms. Trish (1st grade, 2nd grade and 3rd grade)
Montano Campus 4-6 classes: 10 minute performance and 10 minute passing period
11:05 am: Ms. Jill (4 year olds and Kindergarten)
11:25 am: Ms. Sharon (4 year olds and Kindergarten)
11:30 am – 12:15 pm: Lunch
All 9-11 classes: 15 minute performance and 10 minute passing period
12:25 pm: Ms. Emily (4th & 5th grades)
12:55 pm: Ms. Sherry (4th & 5th grades)
1:20 pm: Ms. Molly (4th & 5th grades)
Export This Event