Hero Letters & Appreciation from TMEMS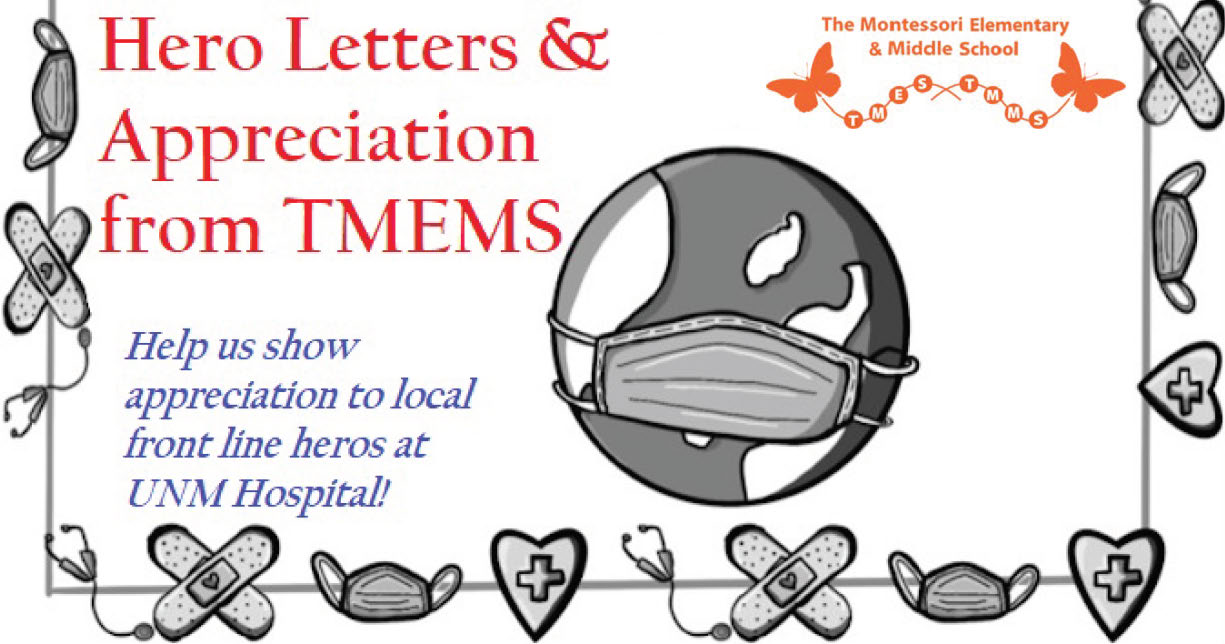 We hope you will join us in showing appreciation to some local heros at The University of New Mexico Hospital!
In order to help our 7th and 8th graders make sense of the world around them during the pandemic, TMMS students have been writing thank you "Hero Letters" to 33 day shift nurses, techs, and educational coordinators at UNMH, in Albuquerque. These letters are personalized to the heros and are scheduled to be delivered, along with some special gifts of locally-sourced items, the week of May 11th. This is where our community comes in: Would you like to contribute to these extra special bags for the UNMH workers?
If you would like to help make the letters that the TMMS middle school students are writing make an even bigger impact, please donate today! A donation of money for gift cards or items will go towards the bags given to each of the 33 healthcare heroes/workers, in addition to the letters. We will use the money raised to buy gift cards and items from local businesses to help support our local small businesses too.
Please see below for some examples of what our middle school students will be sending the heathcare workers/heros!
Any help honoring these giving individuals would be greatly appreciated. Thank you for helping us support those who support our community!
To donate money to the Hero Letters & Appreciation from TMEMS fund:
We can accept donations through PayPal. The process will be the same as any payment made to TMEMS, however, please make sure to notate that the payment is for the "Hero Letter fund" so that we can allocate the payment towards this fund.
For details on how to make a donation/payment through PayPal, please see our "Click here to pay TMEMS balances" on our website at: https://tmesnm.com/school-activity-payments-1/activity-payments . Don't forget to send the email that alerts Ms. Lorraine and Ms. Tiffany on what the payment is for!
The deadline to donate is Friday, May 8th. Thank you!
Thank you for your donation to the Hero Letters & Appreciation fund!
To donate items from your business or to offer a discount to purchase items from your local business:
If you would like to donate items in the form of gift cards/certificates, misc. items or discounts we can use to buy items at an affordable price for the 33 healthcare workers at UNMH, please contact Ms. Amanda Hagerty at: ahagerty@tmesnm.com .
The deadline to donate is Friday, May 8th. Thank you!
Thank you for your help in creating these special gifts for our local heros!