1 Event Tuesday, November 14, 2017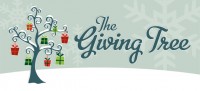 Started November 13, 2017 8:00am and continues through Thursday, December 14, 2017 5:00pm
In the spirit of 'The Giving Tree' by Shel Silverstein, TMES/TMMS/Casita welcomes you to donate to our Giving Tree to benefit the thousands of needy people of all ages who receive resources, clothing, food and education from All Faiths Receiving Home & Storehouse food pantry every year.

Please have your items in by Thursday, December 14th so we may deliver the items to All Faiths Receiving Home & Storehouse.

We are collecting donations of: self- stable, non-perishable food, new or gently used adult & children clothing (especially coats, gloves, hats, socks, and scarves), toys and household items.
We thank you in advance for giving to local people in need. Let's work together to show the incredible TMES spirit of giving to our community!